- Are you tired of searching through your cluttered drawers for a specific tool?
- Would you like to streamline and de-clutter?
- Would you like to reach for just one tool to complete multiple tasks?
This Multifunctional Kitchen Scissors will easily meet all the basic needs in your home!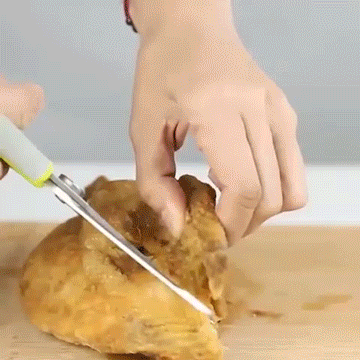 Features:
Multiple uses: Culinary Scissors can be used as fish scales remove, bone cutter, meat cutter, herb scissors, vegetable peeler, screwdriver, bottle opener, and a nutcracker.
Easily take apart: Open our kitchen scissors' two blades up to 90 degrees, the scissors will become two separated knives, which allow for efficient cleaning and debris removal. The two separated blades can be very convenient while cutting cake or butter, sharpening and slicing stuff.
Save in kitchen: Our kitchen scissors are combined with 7 useful functions, they are absolutely time-savers in and out of the kitchen, no need to spend more time in finding other tools.
High quality: Scallop kitchen scissors are made of heavy-duty, long-lasting carbon stainless steel metal. Sharp stainless steel blades for everyday household and kitchen use.
Comfortable & safe: Multiple Functional Kitchen Scissors have a perfectly made, soft-grip handle. This ensures cutting accuracy and efficiency. The magnetic holder ensures the scissors are beyond your beloved kids' reach. Just put this Kitchen Scissors on your fridge.
Specifications:
Color: Green, Black, Red, Blue.
Material: Stainless Steel + Plastic.
Weight: 141g.
Scissors Size: 24.5 x 8.8 cm (approx).
Package Include:
1 x Multi-functional Kitchen Shears.
Warm Tips:
Be careful of the sharp blade and the small metal on the handle's bottom.
Clean the poultry shears after use, then wipe with a clean cloth.
Make sure the dryness of the shears.
Put your kitchen scissors in a dry and ventilated place.
Place the shears to somewhere your kids can't reach.
Do not open the kitchen scissors too much wide (over 90 degrees).